GamesForest.Club will speak at the European Video Games Society event at DEVCOM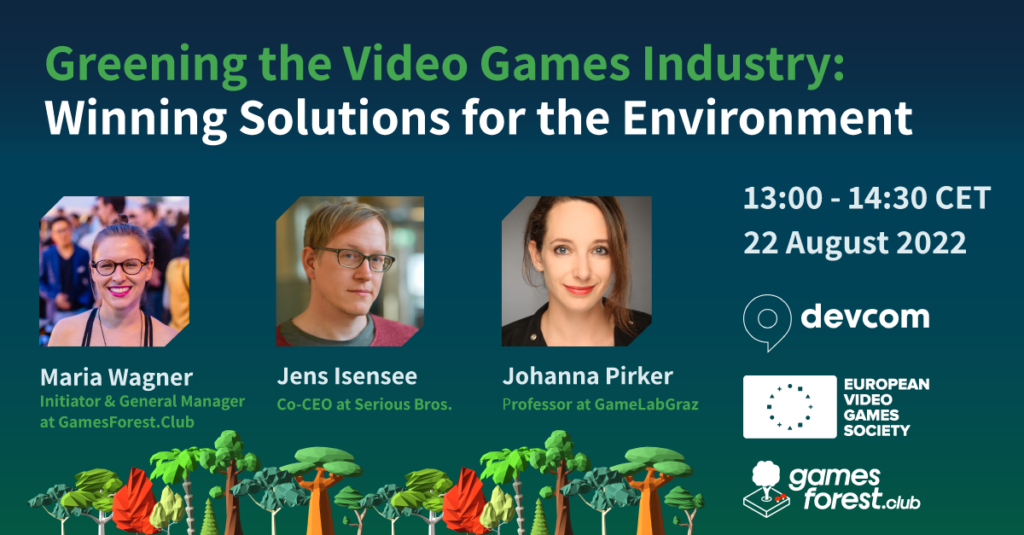 GamesForest is excited to announce the participation of Maria Wagner in a European Video Games Society event at DEVCOM, the biggest game developer conference in Europe. 
This event, titled Greening the Video Games Industry: Winning Solutions for the Environment, will take place on Monday 22 August (13:00-14:30 CEST).  This workshop will focus on what actions can be taken in the whole video game creation process to support the green transition and help combat climate change. In this sense, Maria Wagner will show the main initiatives in the video games sector that promote sustainability across the industry.
Maria will be joined by Jens Isensee from Serious Bros and Johanna Pirker from GameLabGraz. Jens will present the Imagine Earth game they have developed about climate change and how it can encourage more sustainable practices in the industry. Johanna will introduce the audience to the potential of gamification in the industry to become more sustainable.
Anyone attending DEVCOM is welcome to join us! Secure your place by registering in advance here – seats will be given on a first come, first served basis.
The European Video Games Society is a project launched by the European Commission to better understand the video games sector in the EU and its impact on areas such as the economy, education, wellbeing, among others. Until December 2022, European Video Games Society is gathering experts, thinkers, leaders from the sector – including game developers, studios, creators, and business experts through a series of workshops designed to shape a European agenda for video games. 
Want to learn more about this project? Feel free to visit its website and get in touch by email.

Want to contribute to a better EU understanding of the video games sector? Answer this short survey and have your voice heard!