Upright Games joins and plants 550 Trees in the Harz region, Germany
We welcome our newest member Upright Games!
The Frankfurt based studio joined GamesForest.Club as a Bronze Member,
planting 550 trees in the Harz region, Germany.
Who is Upright Games?
Upright Games is a small team of experienced video game developers, using their passion to create mobile games that provide long lasting fun experiences for players. The company is based in Frankfurt am Main, Germany and is best known for developing Royal Revolt 2, which they are live operating in it's 10th year now.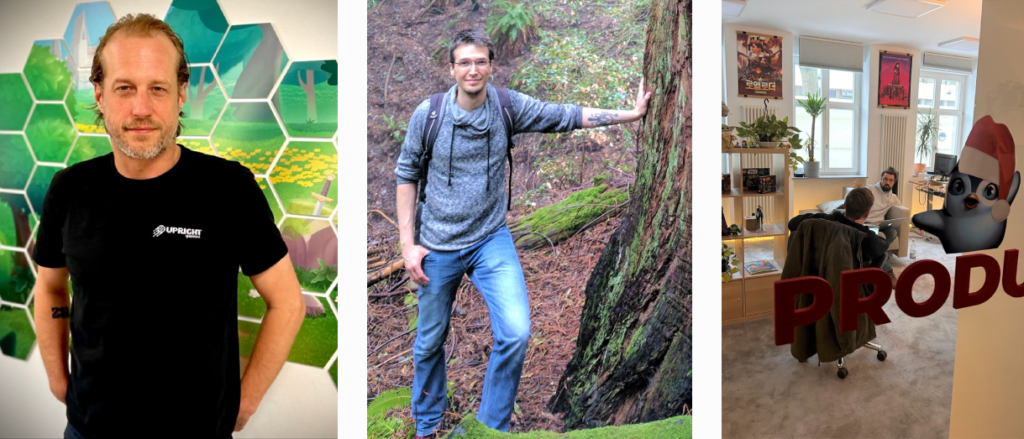 What is their take on sustainability?
As a young and growing video game development studio, Upright Games recognises their role in contributing to environmental sustainability. The team is committed to minimizing their impact on the environment and promoting a more sustainable future through our actions and practices.
They have taken initial measures, such as switching to green energy and joining GamesForest.Club "because we believe that reforestation is a critical step towards reducing carbon emissions and preserving our natural resources.  At the same time, we are committed to promoting social responsibility and ethical business practices. We strive to ensure that our employees are fairly compensated and have access to a safe and healthy work environment. We will continue to evaluate and improve our practices to make a positive contribution to our planet and communities."
CEO Felix Pietsch on the decision to join GamesForest.Club:
"We are grateful for the existence of the Games Forest Club and its initiative to encourage video game companies to offset their carbon emissions by planting trees. This has given us an opportunity to make a meaningful impact towards sustainability and we are proud to be a part of it. We encourage our peers in the gaming industry to join us in this effort towards a more sustainable future."
Why did they choose to support Bergwaldprojekt?
The team has decided to support "Bergwaldprojekt" with their membership, and even with their own hands as tree planting volunteers.
"Bergwaldprojekt supports the transformation towards natural and resilient forests, protects ecologically valuable cultural landscapes, and has outstanding experience in restoring peatlands. What makes this special for us, however, is that all these measures are implemented with the help of volunteers.
As a result, the more than 150 project weeks per year have a doubled effect. In addition to reaching the project goals, the collaborative work on-site leads to a deepened appreciation of the beauty and vulnerability of our natural world. This experience sparks an ongoing transformation process, enabling participants to integrate their newfound awareness of environmental protection and sustainability into their everyday lives."
We welcome Upright Games onboard and are looking forward to seeing their real and digital forest grow (btw Upright Games even brought their own tree model 🤩)!