Devin Kemp, a video game and music streamer, is supporting old-growth forests in Eastern Germany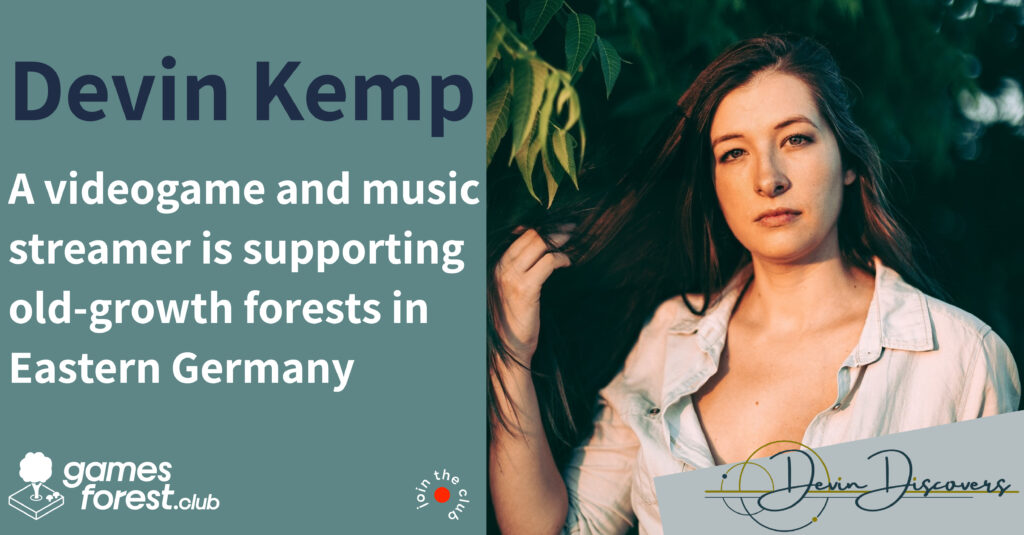 Hello everyone! 
Today we are happy to introduce our new sponsor – Devin Kemp – a video game and music streamer based in Berlin, Germany!
After earning her Master's degree in Vocal Performance Devin performed Opera professionally in the US as well as owned and operated her own voice studio. She moved to Germany in 2019 to further pursue her singing career. In 2020 during the COVID19 pandemic, she began streaming as an outlet for music and entertainment. She now streams full-time on Twitch and Facebook Gaming under the title "Devin Discovers'. Collaborations and charity streams are something Devin enjoys organizing and performing! Therefore, she is very excited to collaborate with GamesForest.Club whose initiative is close to her heart.
"I was so intrigued by the concept of combining climate awareness and protection efforts with the gaming industry and online communities involved with it. I am always intrigued when a person brings together two seemingly unconnected things and highlights the important connections between the two things. I am currently trying to do this with my own streams and online presence: Highlighting the importance of classical music, specifically opera, in modern society and the gaming industry. I am so pleased to support such a creative and important cause with my music!" – Devin says.
Devin often has conversations with her friends about ways to support climate protection in their day-to-day lives. She owns and rides a bike everywhere as well as eating vegetarian meals regularly to lessen the impact of meat on the environment.
"I think that these small changes are not nearly enough and large-scale corporations need to take more active and greater responsibility in climate protection efforts. I am happy to use even my small platform to bring awareness to this issue."
Together with GamesForest.Club, Devin Kemp is protecting and supporting Uckermark which is a biodiversity hotspot in Germany. The hilly landscape is full of precious habitats: old beech and idyllic alder forests, clear lakes and streams, moors, and orchid meadows. The area is also home to various animal species. In addition to otters, beavers, and pond turtles, sea eagles, fish eagles, and lesser spotted eagles, as well as black and white storks, are part of Germany's natural treasures.
"I chose the WWF forest protection project in the Uckermark because I have been living in Germany for 2.5 years now and I want to make sure I am supporting the climate and doing my part to give back to the place that I live and call home."
On March 17, Devin will run a donation stream on her Twitch channel. All the donations will go to the Uckermark environmental project and will be represented in Devin's digital forest. Join us and support the old-growth forests in Eastern Germany! 
Check out also our "Stream for Forests" projects: a great opportunity to run donation streams with us and grow your digital forest!